The Tomb of The Augurs
Tomba Dei Augures
Period: 530 - 480 BCE.
Main Wall: On the furthest wall is a mensola, on either side of which are depicted two ferocious animals. Under this is a painted door with gold coloured ornamentation .
The dromos opens to the south-west - the regiones dirae of the underworld).
The door of the Prothesis is to the northeast. It is not the door to the underworld , but probably represents the entrance to the prothesis or funerary tent, where the deceased was laid out. On the sides we notice two characters with their hands extended upwards. They are generally interpreted as augurs, but others interpret them as relatives of the deceased, reading the name written on the wall (Apastanasar) which contains the root apa (father).
Right Wall: we notice two figures of shorter stature, probably slaves; a door and a stool ; next is a character wearing a tebenna with a salutory pose.


The next character is Tevarath with a lituus in his right hand. To the center of the wall two wrestlers are depicted, possibly part of the funerary games. The next scene is also probably part of the funerary games, and depicts a masked figure holding a rope in his hand. The rope is attached to the collar of a dog. When the Phersu (masked person) pulls on the rope, a nail on the dog's collar bites into its neck, enraging the animal and causing it to attack a tethered man, possibly a condemned criminal. Up until recently the names of the characters could be read.
The name Phersu or Persu is probably the origin of the latin word "Persona" associated with the theatrical tradition.
Left Wall : On this wall are the traces of two boxers and an auleta. Next to this is follows a dancing Phersu.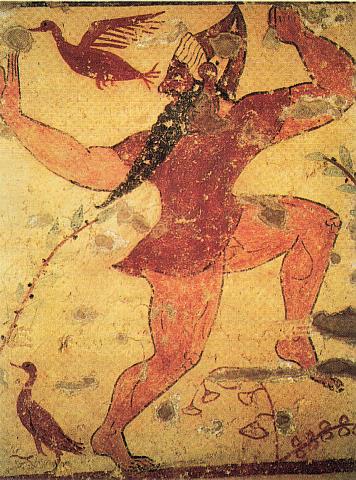 ç
é